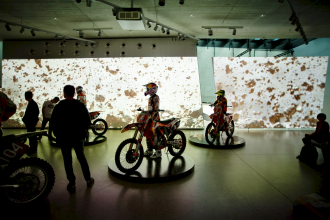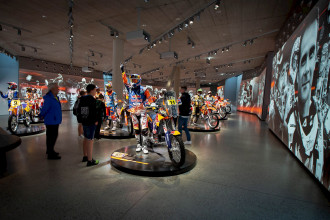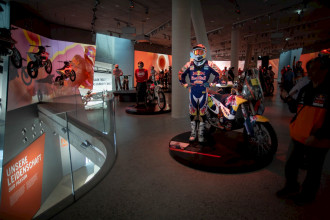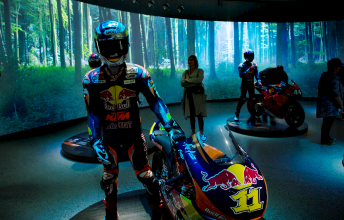 KTM Motohall // Heroes of Racing. On May 11, 2019, KTM, the largest motorcycle manufacturer in Europe, inaugurated the KTM Motohall. The hypermodern visitor center marks a scenic contrast to the alpine foothills of Upper Austria's Mattighofen, and the building's interior enhances the dynamics of its technical look. In the context of architecture and brand attributes, leading agency ATELIER BRÜCKNER developed a speed-oriented exhibition design that – together with TAMSCHICK MEDIA+SPACE's moving audiovisual presentation – offers far more than just a museum visit.
Spread over three levels, the thrilling exhibition spans the spectrum from corporate identity to the development of individual motorbikes and ranking in international racing history. KTM's unwavering mission to pursue sporting achievements has created legendary pilots and machines for decades. At the peak of the 3,000 square meter exhibition visitors to the KTM Motohall finally encounter the "Heroes of Racing".
An impressive presentation of 30 KTM world champions is located in the center of the Motohall's top floor. While roaming through the life-size sculptures of pilots exhibited with their original racing machines, visitors become part of the racing experience. Crowning event of the multimedia exhibition is TAMSCHICK MEDIA+SPACE's rousing thirteen-minute show of light, sound and film. Floor to ceiling screens and immersive 360-degree projections envelop man and motorcycle in the scenery of racing. The sequences of the film cause an intense racing sensation, literally getting under the audience's skin by means of editing, projection technology and sound effects.
TAMSCHICK MEDIA+SPACE's film production introduces spectators to Motocross, Enduro, Rally and MotoGP, the four international racing formats where KTM achieves top positions on a regular basis. Each chapter of the film tells impressive stories of tracks and machines, of mechanics and bikers, showing thrilling racing impressions from start to finish. Spectators are chased over asphalt trails in extreme inclinations and fly over sand dunes, fields and boulders. An emotional highlight is the playback of "Heroes' Voices", interviews in which KTM's world champions speak about the challenges and successes of racing – the kind of stories that made the brand's ready-to-race fascination. KTM CEO Stefan Pierer describes it this way: "Motorsports is our central driver and our emotional glue. That's the heart of KTM, and that's perfectly accentuated in the Motohall."